Our products
PNEUMATIC StarX FLAGS
Finally, something new on the flag market. The innovative approach to beachflags has resulted in a great solution.
Pneumatic StarX flags outperform bechflags when it comes to height: StarX is the first ever flag construction to reach 8 meters. The flag draws attention both outside and inside. This patented construction is effective, dynamic, lightweight, and safe. It doesn't just look aerodynamic – its design uses wind instead of resisting it.
SAFETY
The flagpole for StarX flags is free from any rigid elements, preventing any sort of accidents during events, such as concerts, fairs, and sporting events. It is ideal for open days in car dealerships – the risk of accidental damages is much reduced.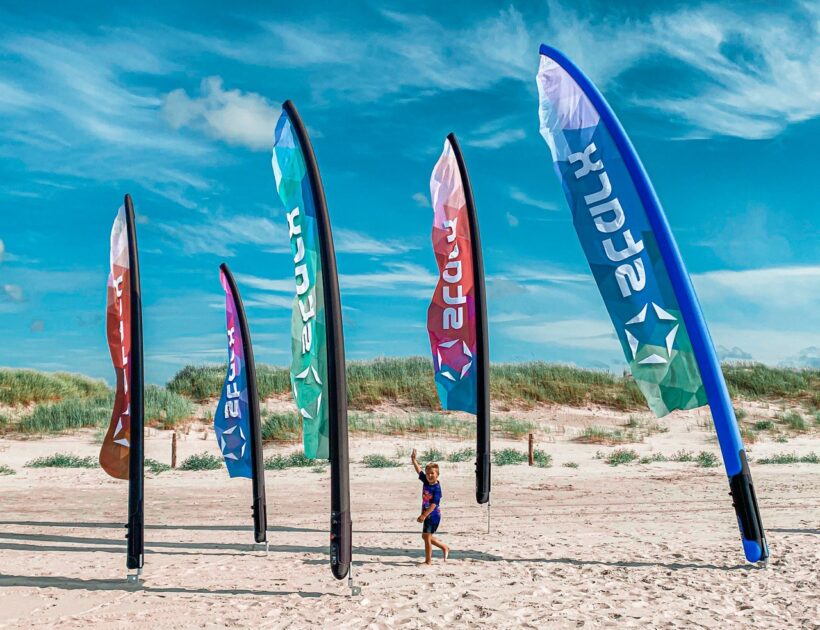 SEELCTED StarX PROJECTS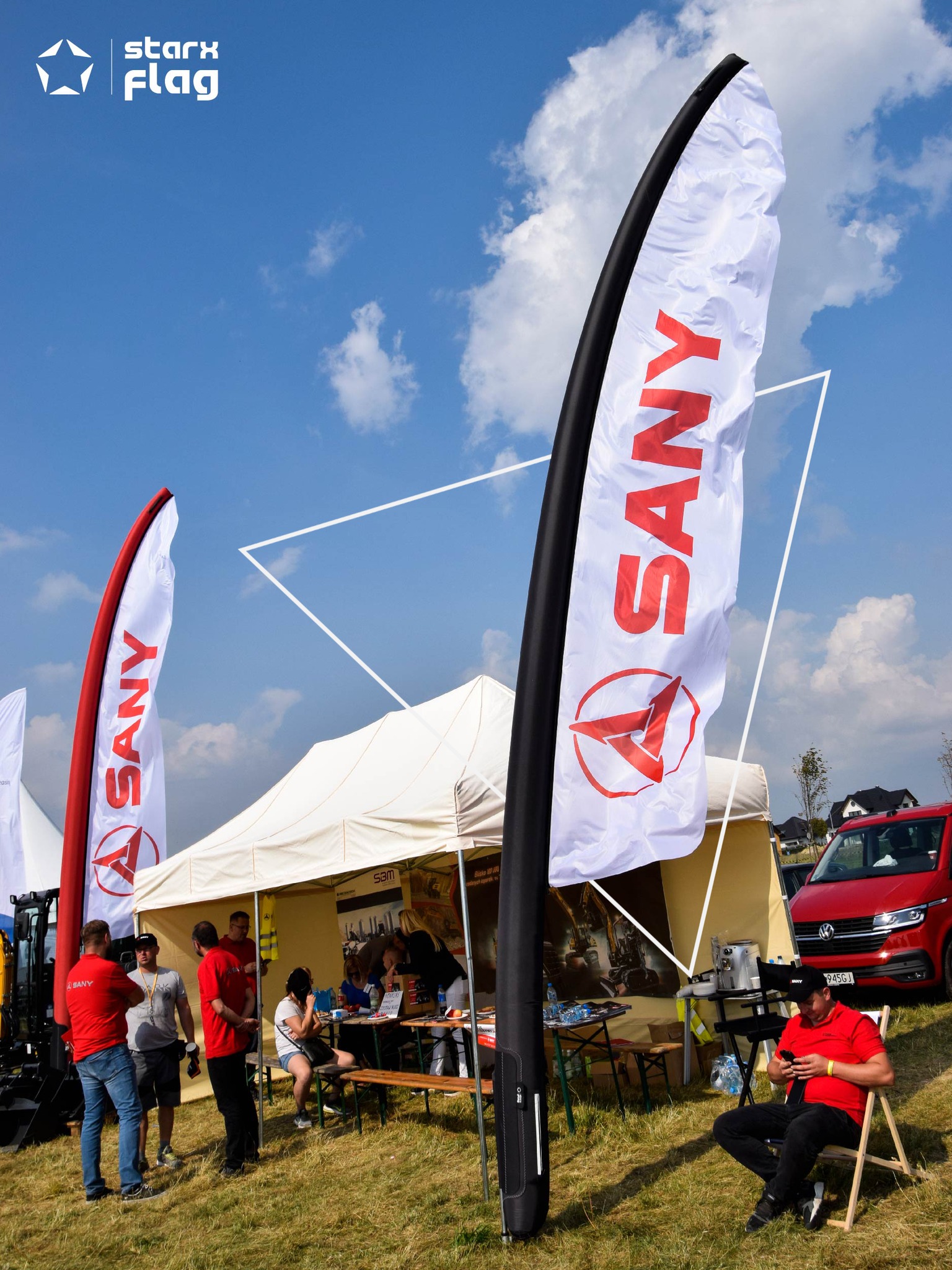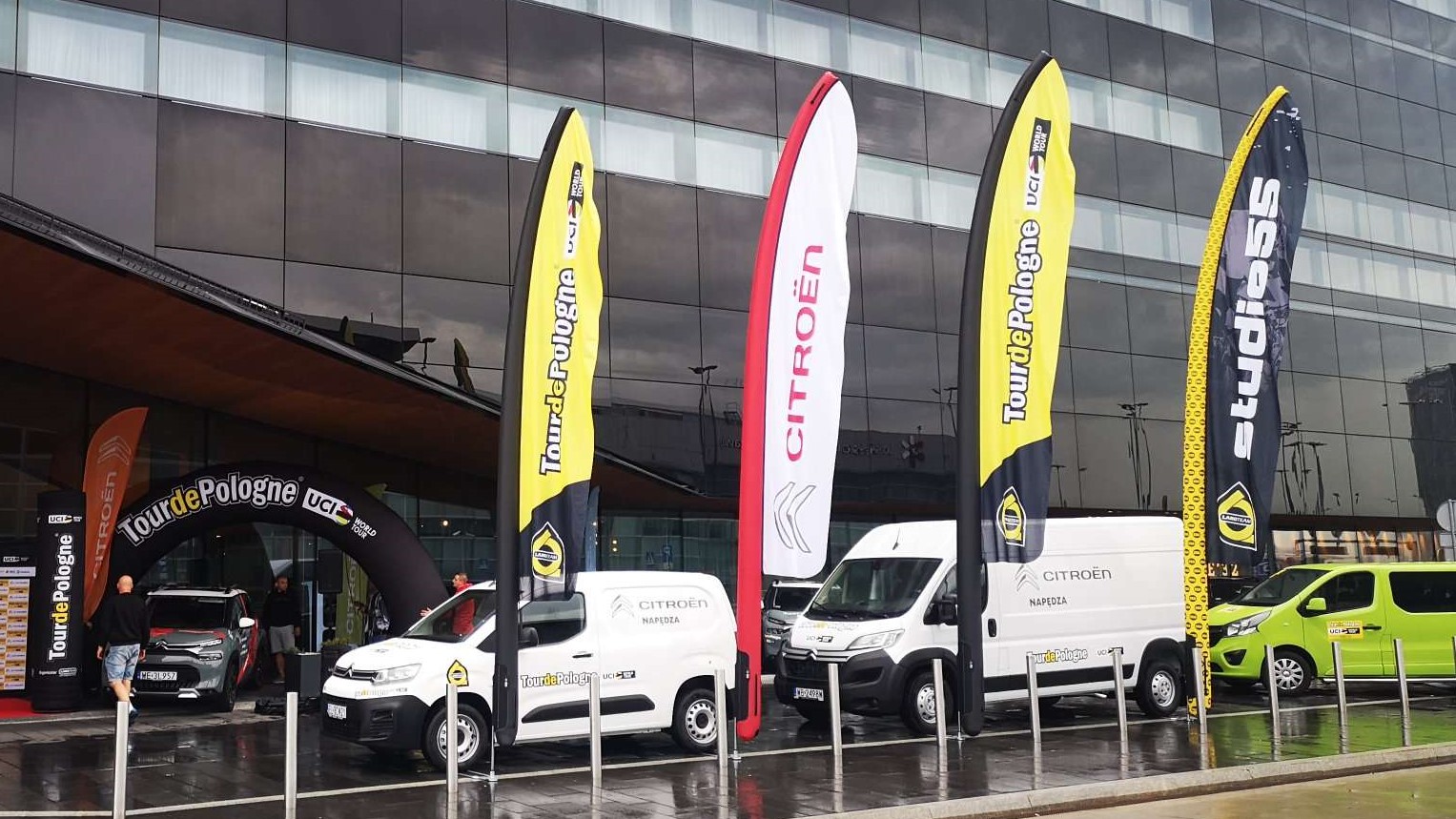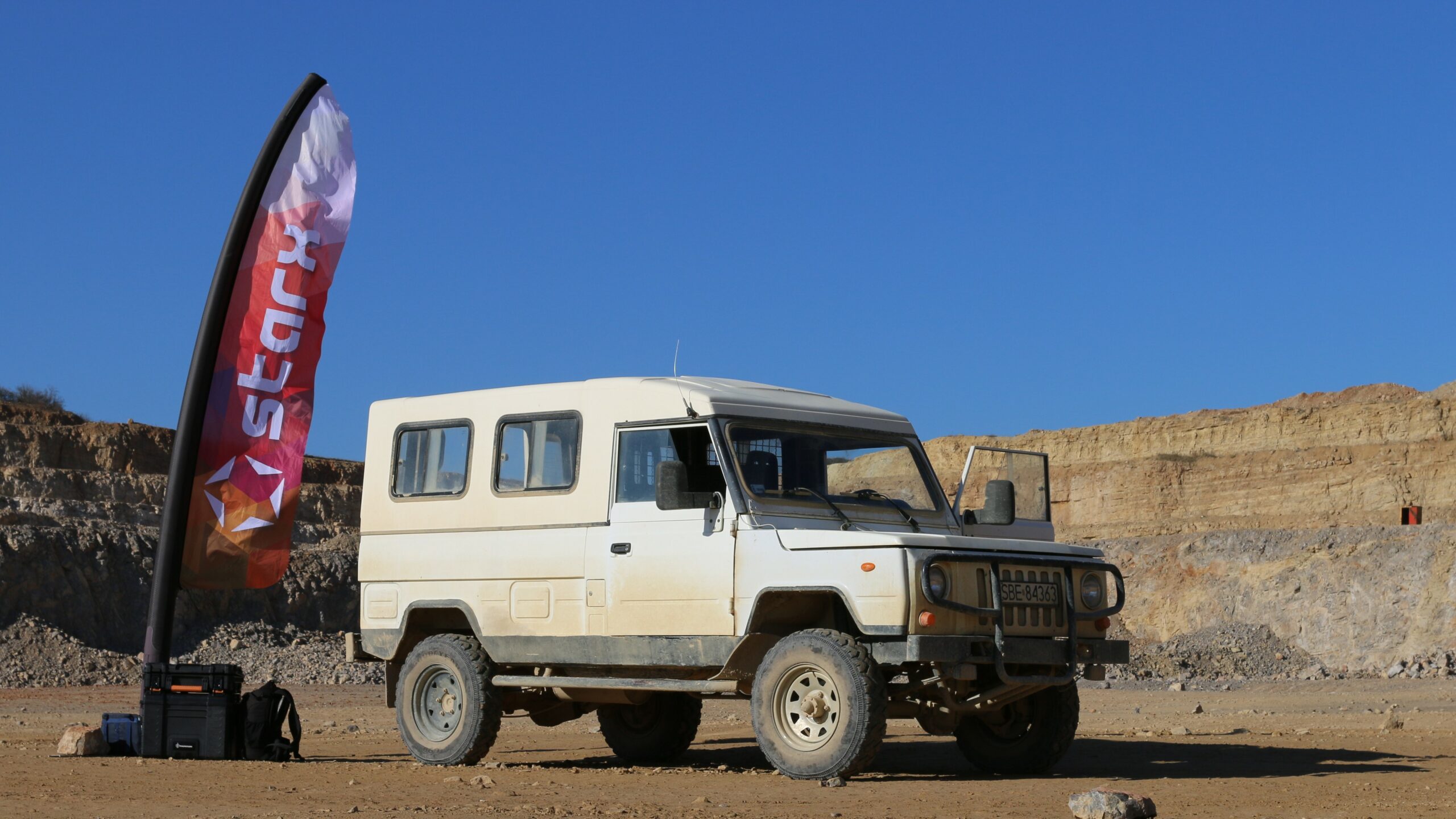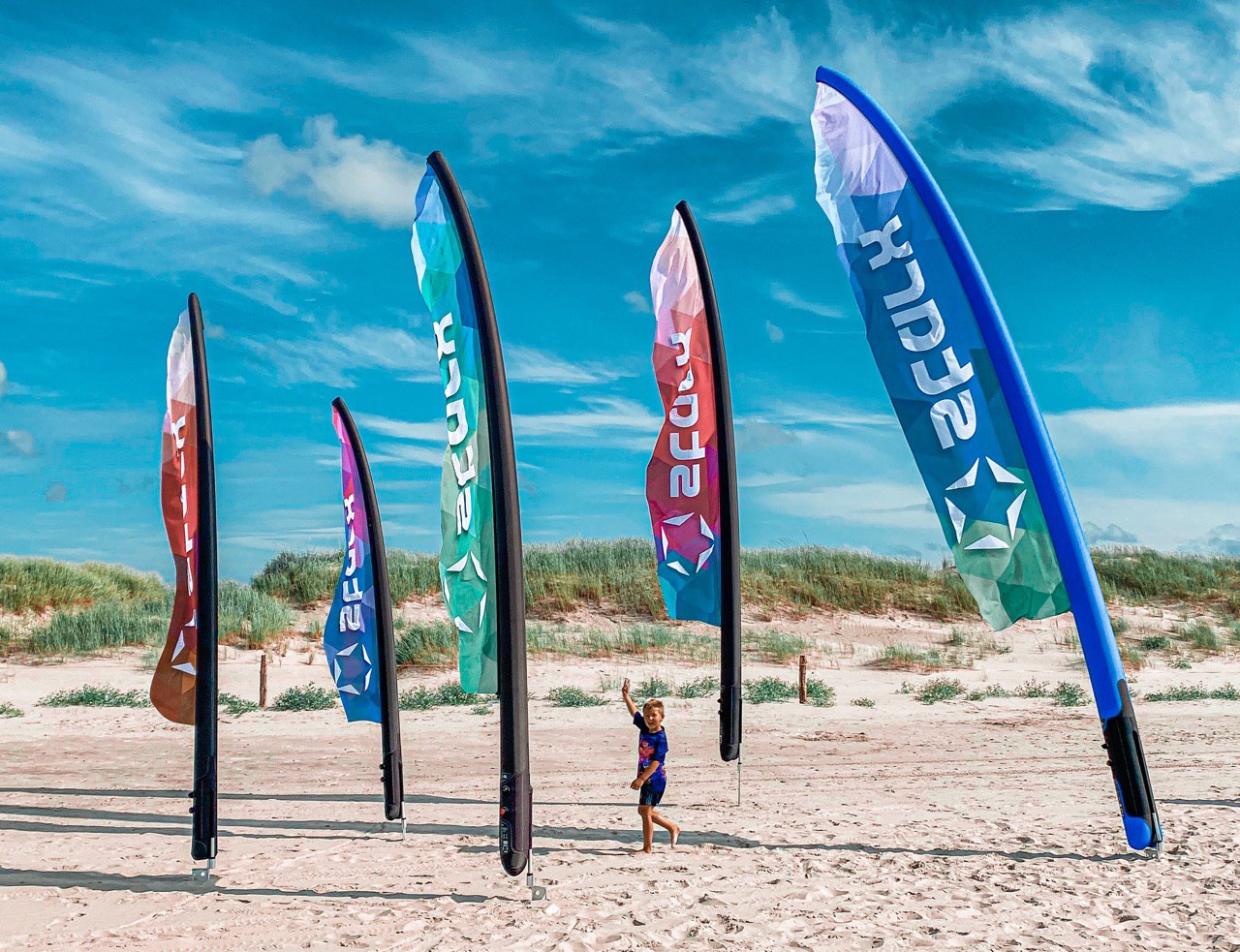 DIFFERENT FLAGPOLE HEIGHTS
Adjust the flag size to its use. StarX flags are up to 8 meters, with bestselling flags being the most eye-catching: 6, 7, and 8 meters high.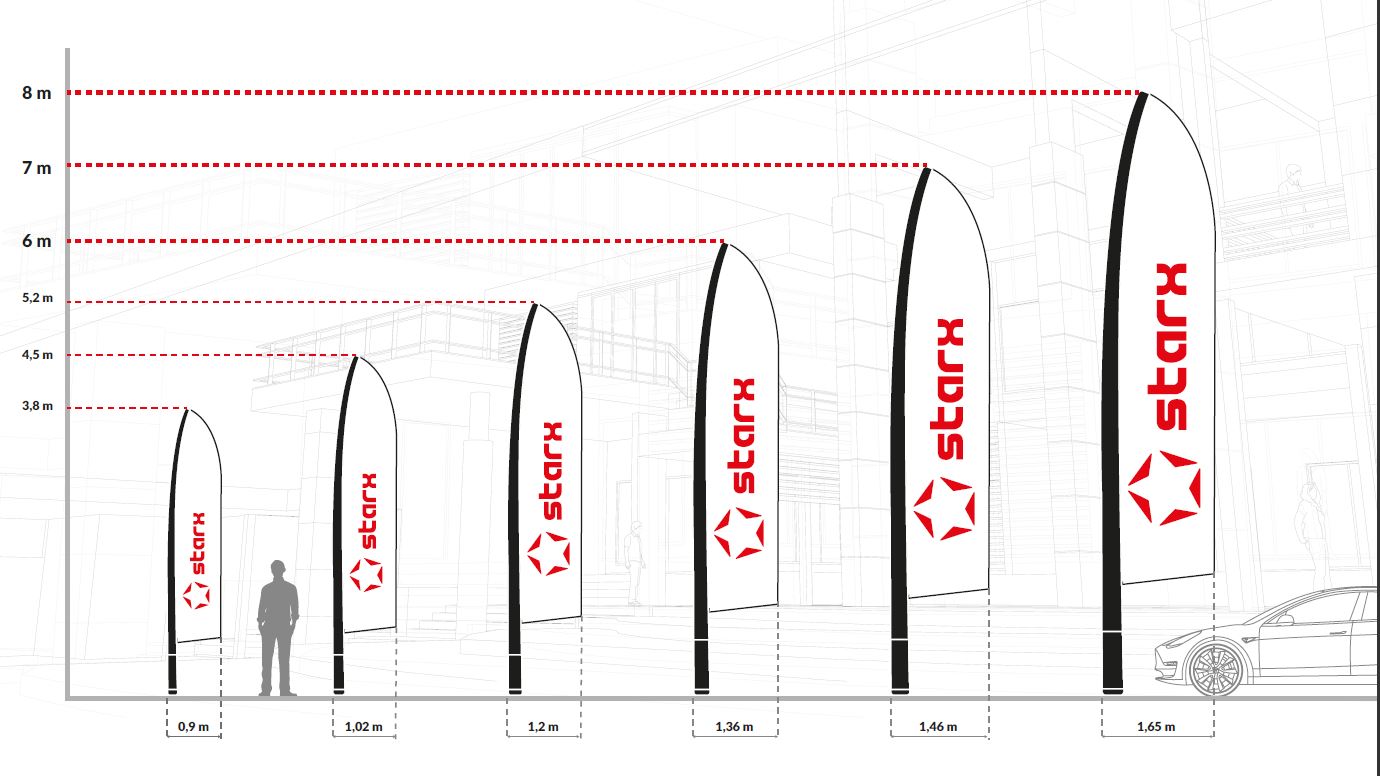 DIFFERENT COLOURS OF FLAGPOLES
The available 7 colours of flagpoles allow to match it better with your flag. They can be printed on, as well.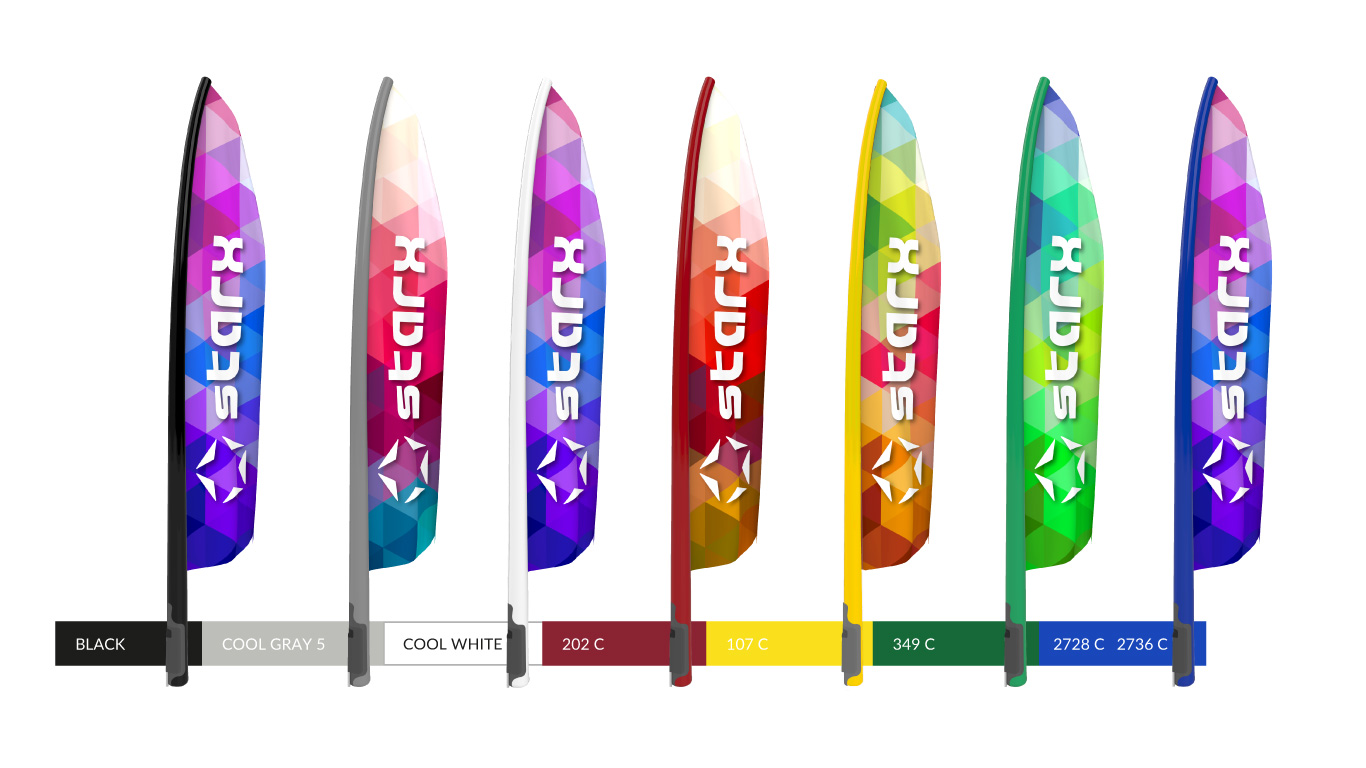 UNIVERSAL BASES FOR STARX FLAGPOLES
The bases for StarX flags are of solid construction and designed for different surfaces.
These pneumatic flags can be placed on hard surfaces such as concrete paving or asphalt with the use of drive-on or a cross base. To place the flag on a softer surface, such as grass, a hammer base will do the job.
The stability of your StarX flag can be improved by adding weights for the base.
Both the bases and the weights come in separate cases.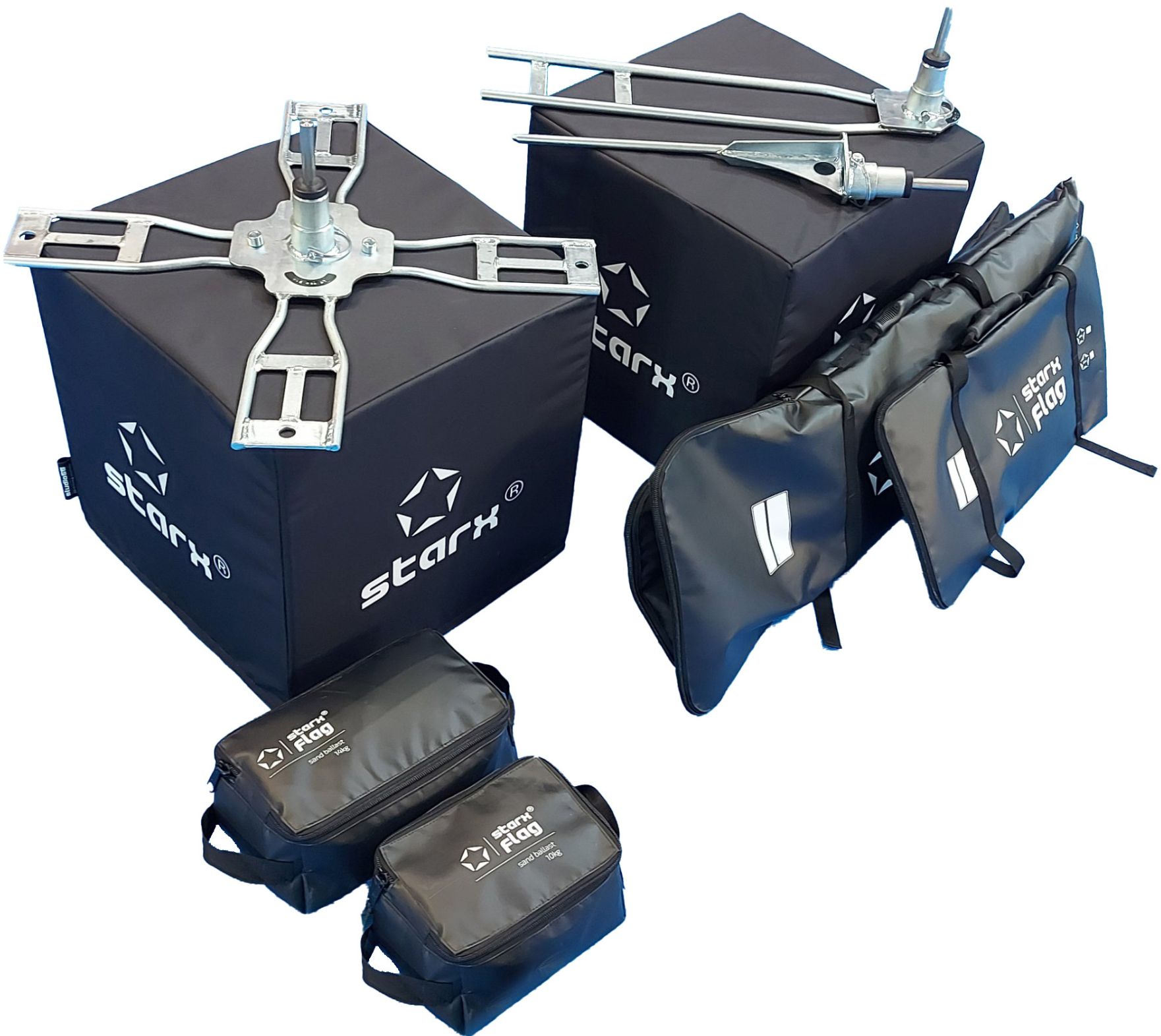 BASES MADE FOR ALL SURFACES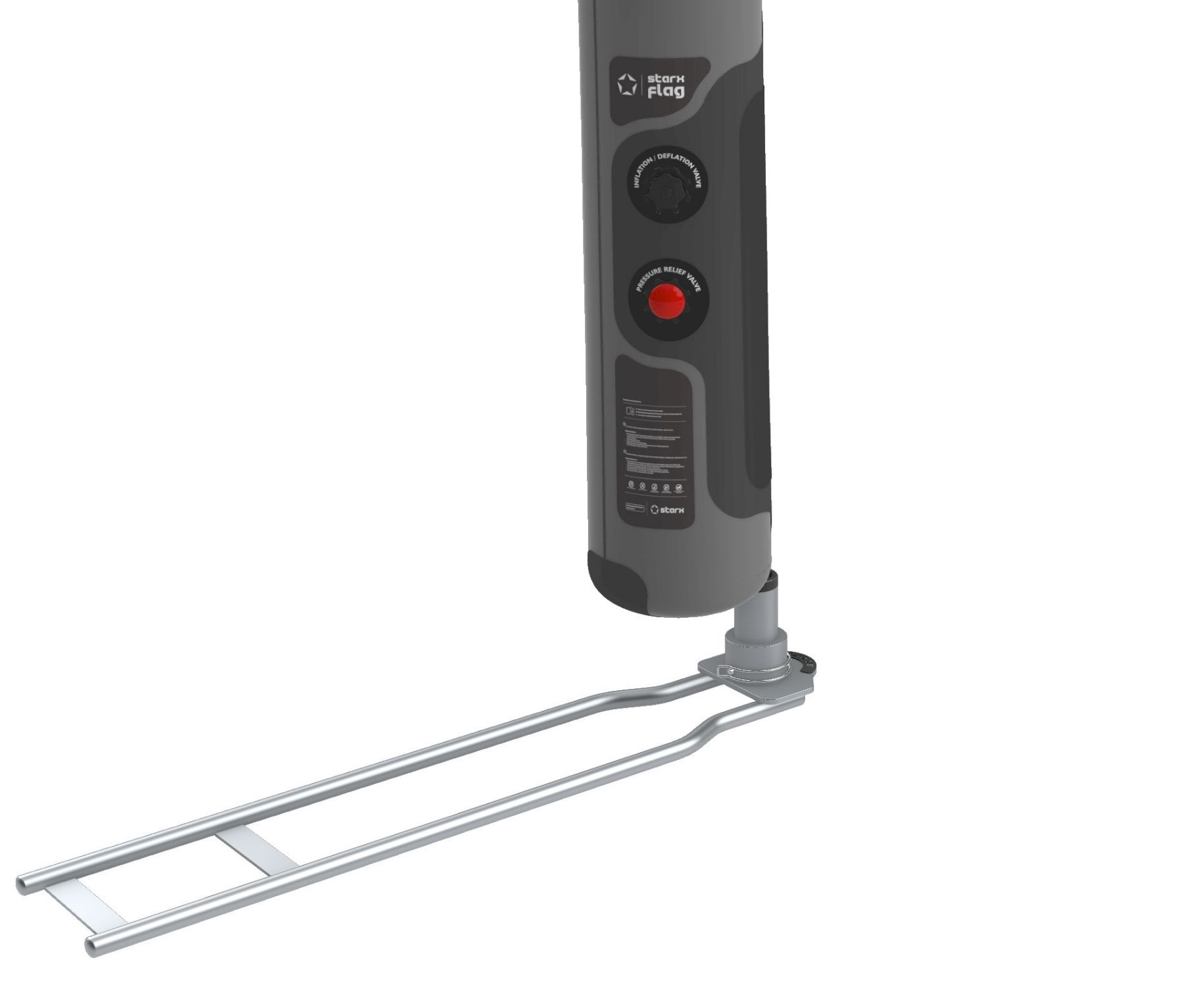 DRIVE-ON BASE WITH ROTATOR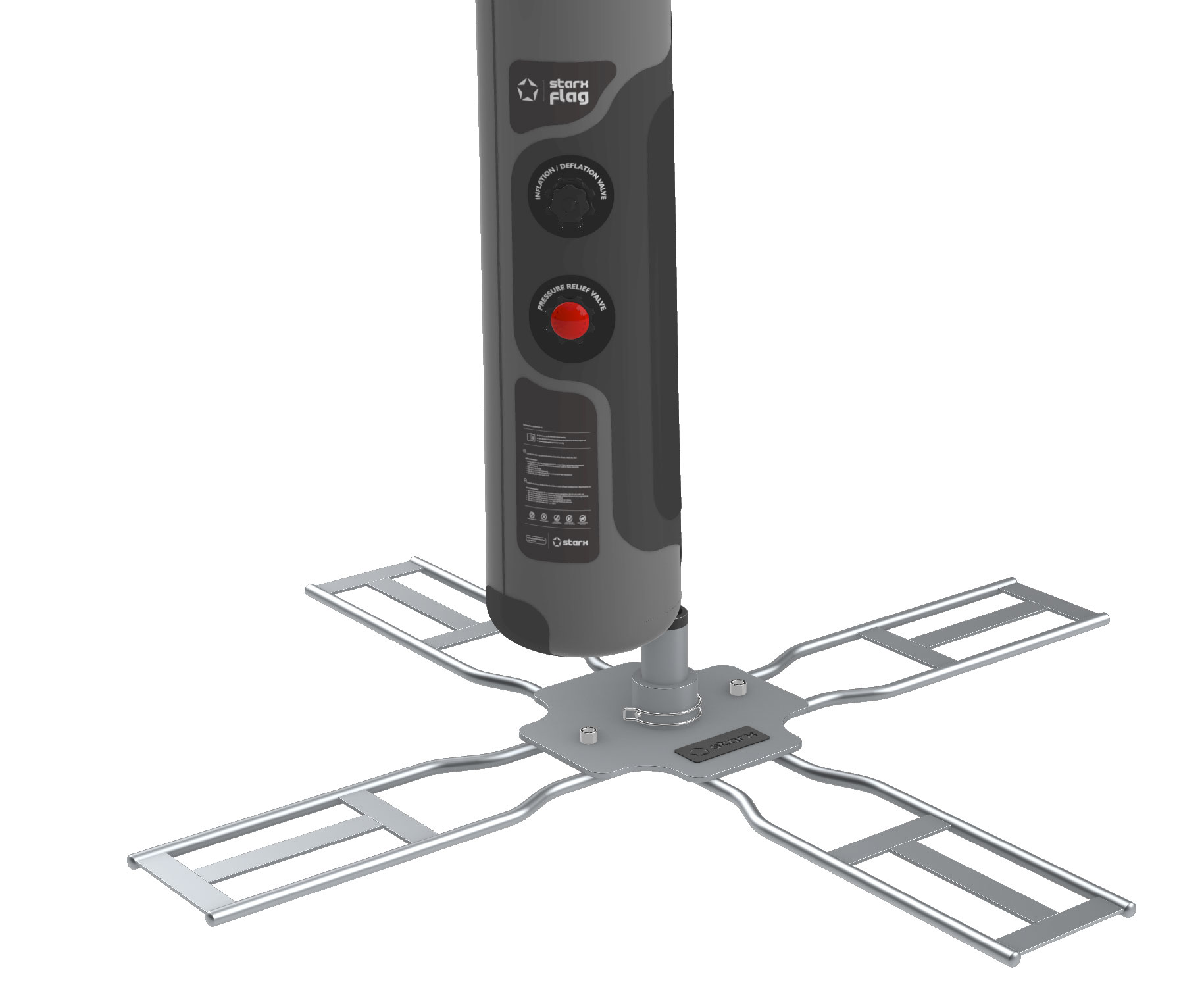 S CROSS BASE WITH ROTATOR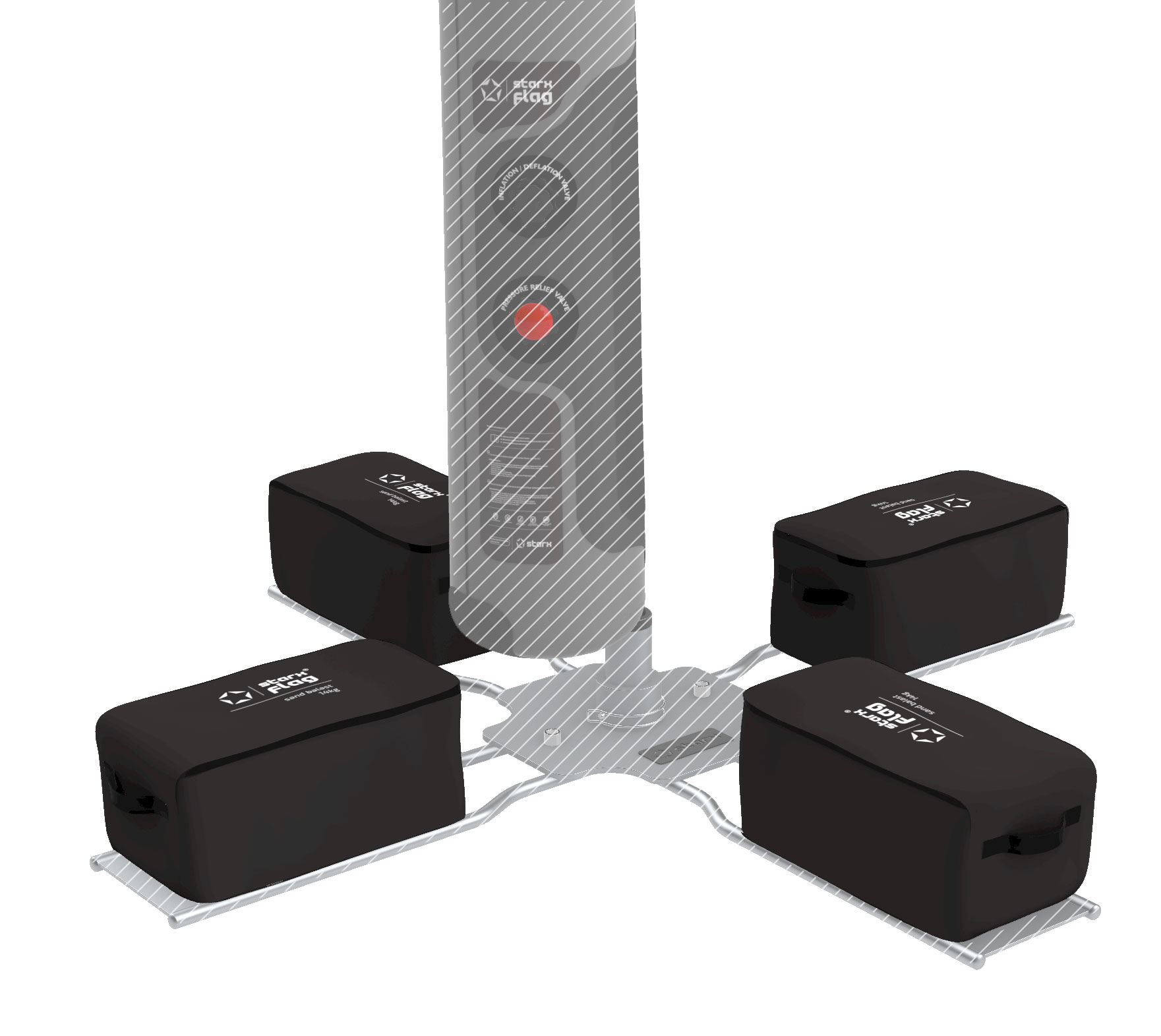 14 KG WEIGHTS FOR THE XL CROSS-BASE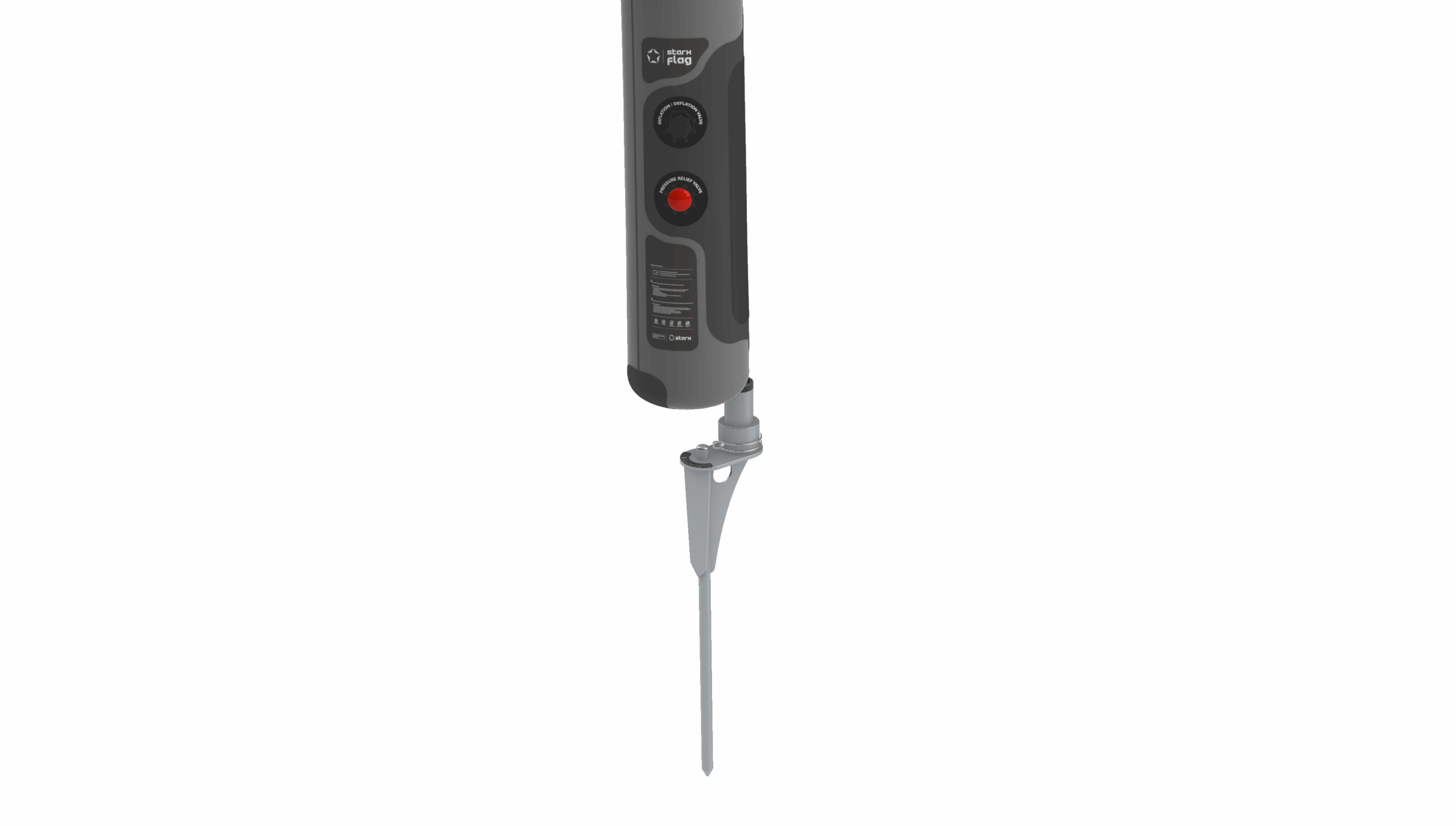 HAMMER BASE WITH ROTATOR
QUICK ASSEMBLY
You can assemble the StarX flag in 5-10 minutes and the beginner may need only 15. The disassembly is even quicker.
With a two-way pump you can quickly fill the pneumatic flagpole with air.
The flag is then attached to the flagpole with just a zipper. This makes it easy to change up the printed flags.
The ready construction weighs up to 6 kg plus… the air, which makes any assembly work incredibly easy.
CONSTRUCTION
The two-layered flagpole skin remains firm by the over-pressure system of regulating the pressure inside the flagpole.
The air is provided to the inflatable flagpole by a pump: there is a two-way manual pump or an electric 12V and 230V pump – choose one according to your needs.
The flags are easily swapped, can be printed on, and are attached by a zipper.
The lightweight flagpole turns on a base rotator with the wind.
Excellent European manufacturing, finished in a nautical style.
Inside, there is a solid and air-tight TPU bladder with an over-pressure valves to release excess pressure.
THE StarX KIT
What's inside:
Two-layer flagpole skin (in a selected colour) + TPU bladder inside
Flag
Transport bag
Metal connector
Repair kit
Manual
STARX ACCESSORIES
The two-way manual pump is essential for fully inflating the pneumatic flagpole, since it is equipped with a manometer.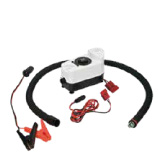 PREMIUM 12V ELECTRIC PUMP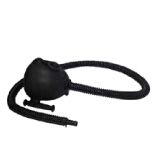 PREMIUM 230V ELECTRIC PUMP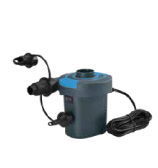 STANDARD 12V+230V ELECTRIC PUMP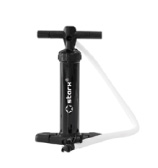 PREMIUM OSS16 MANUAL PUMP
STARX BEACHFLAG RENTAL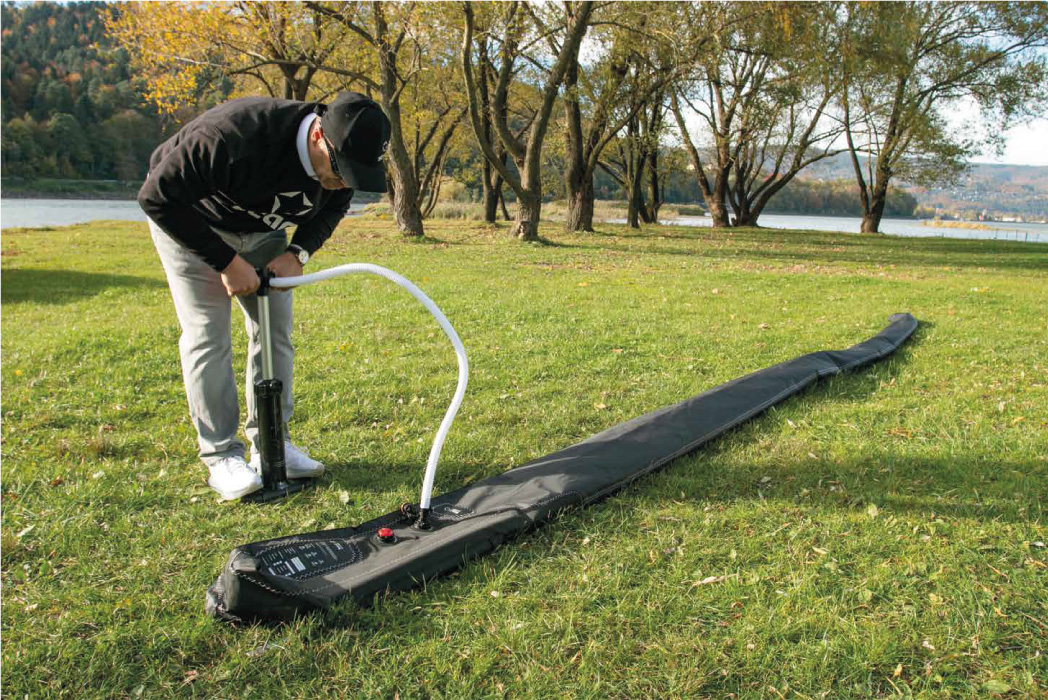 Do you need a StarX flag for just one event? Not sure if it's going to work?
We can rent the StarX flagpoles and bases.
Order your flag and you can rent the rest of the display kit: a flagpole, a base, and a pump.
Note: the two-way manual pump is essential for fully inflating the pneumatic flagpole.
STARX PRODUCTS ARE INDUSTRIAL PROPERTY OBJECTS IN THE FORM OF INVENTIONS, UTILITY MODELS AND INDUSTRIAL DESIGNS PROTECTED AND SUBMITTED FOR PROTECTION IN THE PATENT OFFICE OF THE REPUBLIC OF POLAND AND THE EUROPEAN UNION INTELLECTUAL PROPERTY OFFICE. BY USING ORIGINAL STARX PNEUMATIC SOLUTIONS, YOU ARE NOT VIOLATING ANY INTELLECTUAL PROPERTY RIGHTS. IF YOU HAVE ANY FURTHER QUESTIONS, WRITE TO: INFO@STARXFLAG.COM
SERVICING
The pneumatic beachflags are a European product, are repairable and with full access to replacement parts. In case of any malfunction, send us the damaged element and we will repair it.
We will answer your questions
Contact us
LOGO Jacygrad Zawadzki Sp. J.
266 Modlińska St.
03-152 Warsaw
Contact