Promotional flags
A flag waving in the wind just in front of a company's offices is an excellent marketing move, positively affecting the brand. Thanks to their large sizes and dynamic appearance, promotional flags attract those walking and driving past the area. Your slogan and trademark installed on a flagpole will help you reach more people. It will also make your company appear more prestigious. In turn, it facilitates business relations and attracts new customers to your products or services.
When placing flags in front of a company's offices, one has to make sure they are strong and resistant to changing weather conditions. We offer durable flagpoles and provide a ten-year warranty on them. The fabrics on which we print, being resistant to sunlight and rainfall, are presentable all year round. Our products are perfect as a permanent feature on a company's grounds or as part of an exhibition stand at events.
Flags are a traditional advertising medium that, thanks to technological progress, finds more and more interesting uses. These are not only the standard flags on solid flagpoles but also dynamic beachflags which are becoming increasingly popular thanks to their attractive shape, integration with a flagpole, and affordability.
Nowadays, a flag is made up of a technologically advanced fabric, usually made of polyester, a graphic design printed with silk-screen or digital technique, trimmed with strong threads, and fitted to the flagpole. Our flags are tailor-made and sold to developers, construction, gas stations, companies, offices, cities, agencies, and the army.
Przykładowe realizacje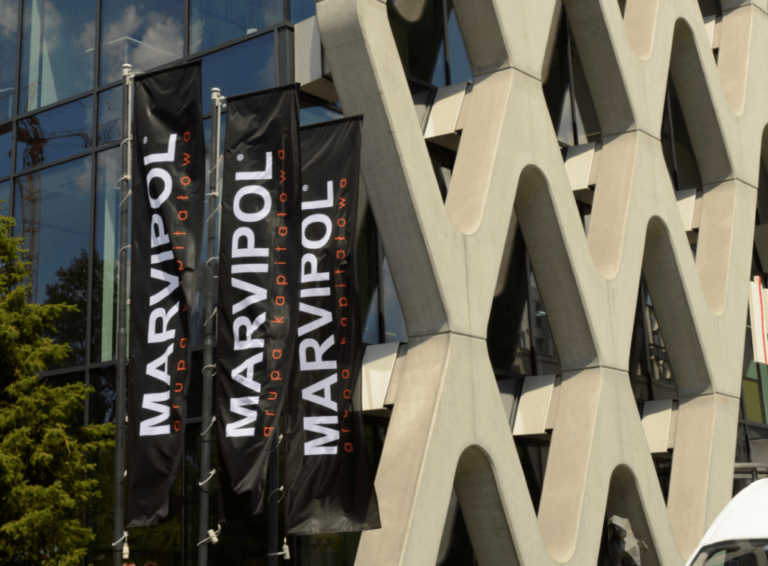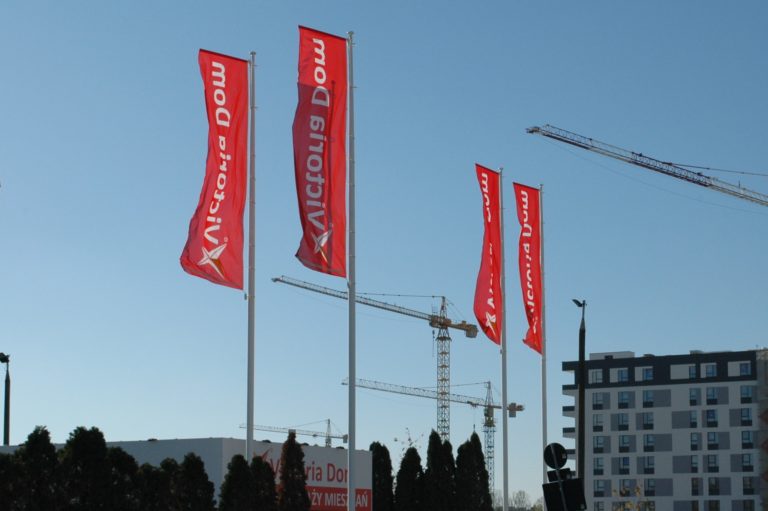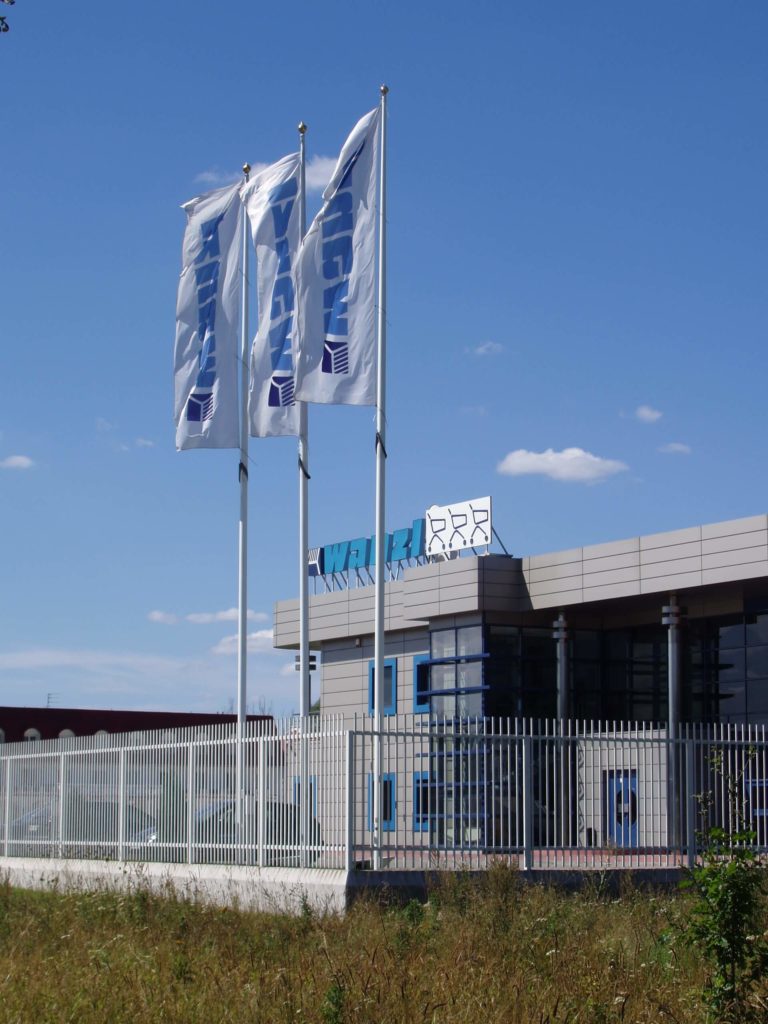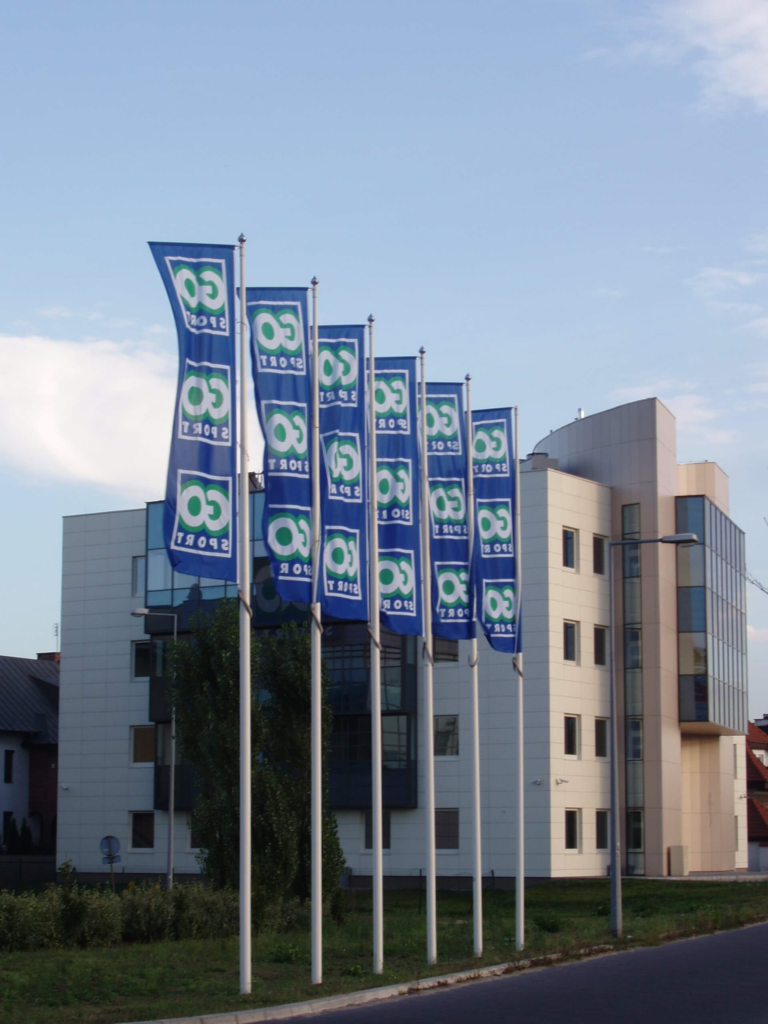 Flag materials
For printing our flags we use only special, durable auto-blocking weave fabrics which prevent the flags from tearing when slightly damaged.
These are light, polyester fabrics with different degrees of shine.
From a standard, widely used flag material, through a very strong, spun polyester used for sea flags, to an attractive, shiny polyester used for office flags.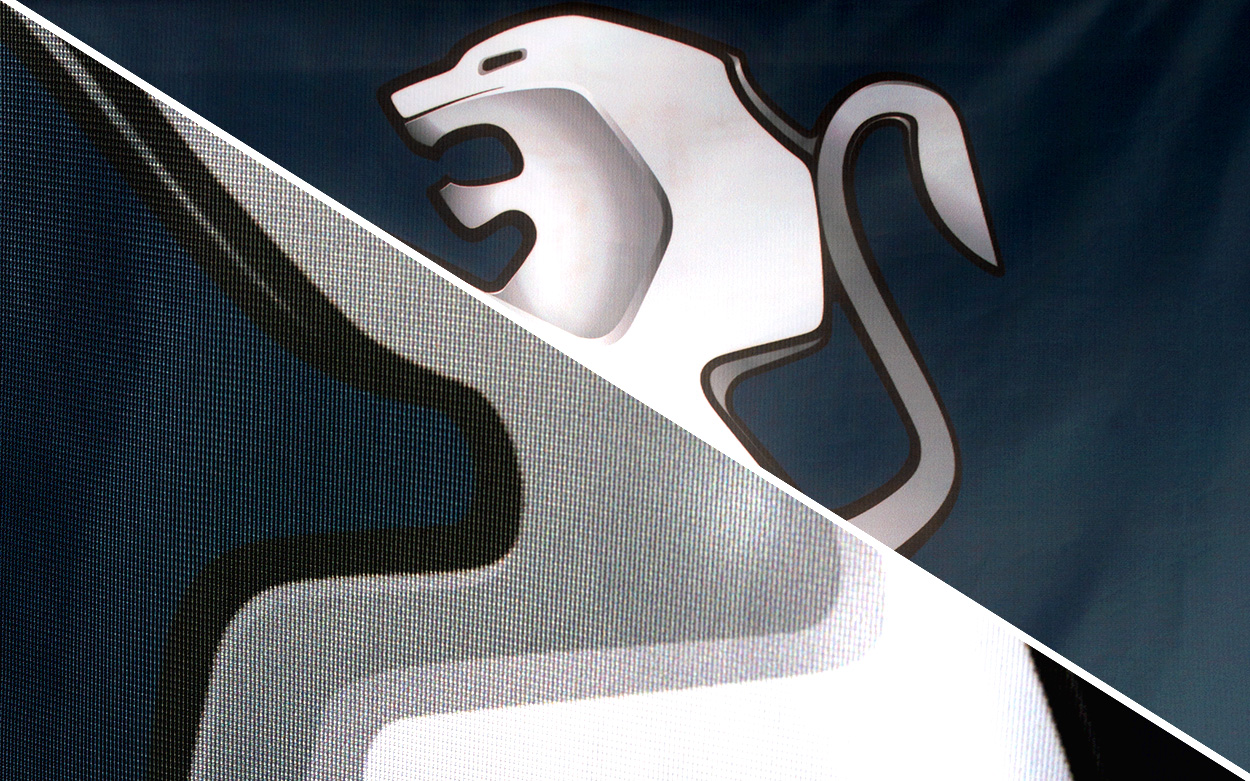 100% Polyester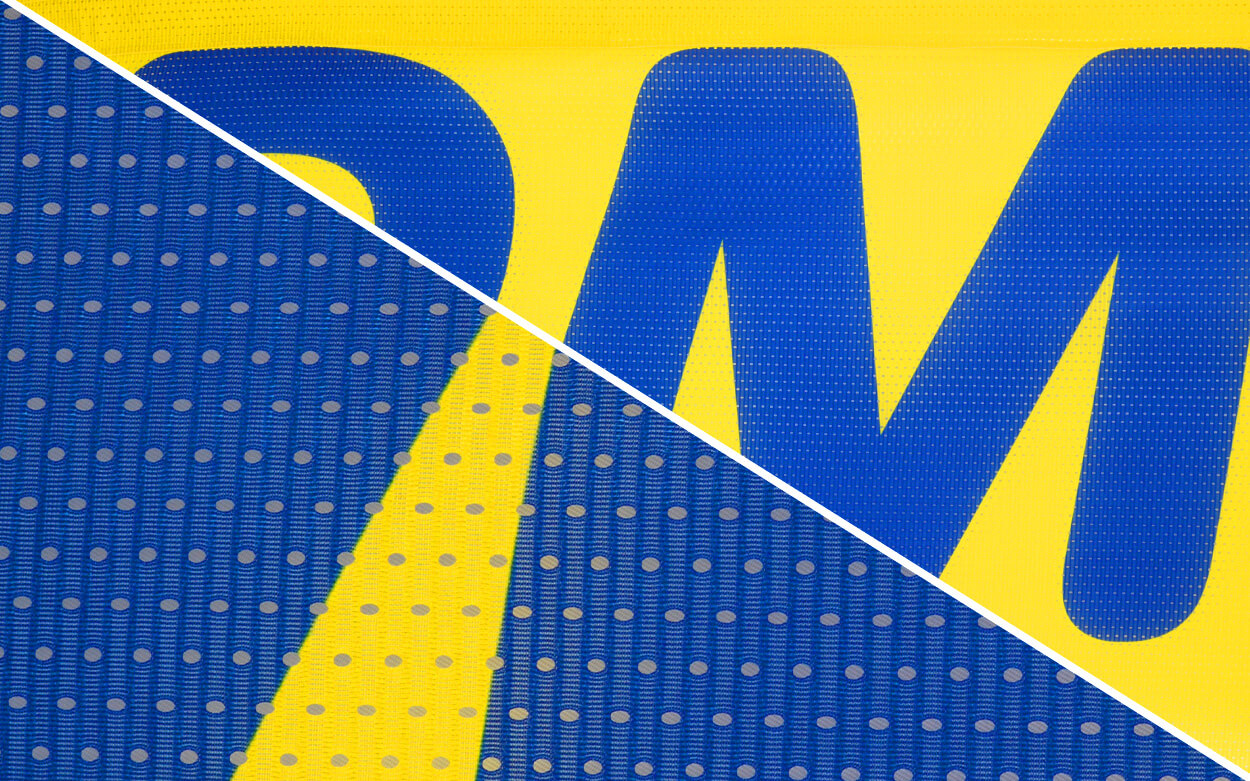 100% Mesh Polyester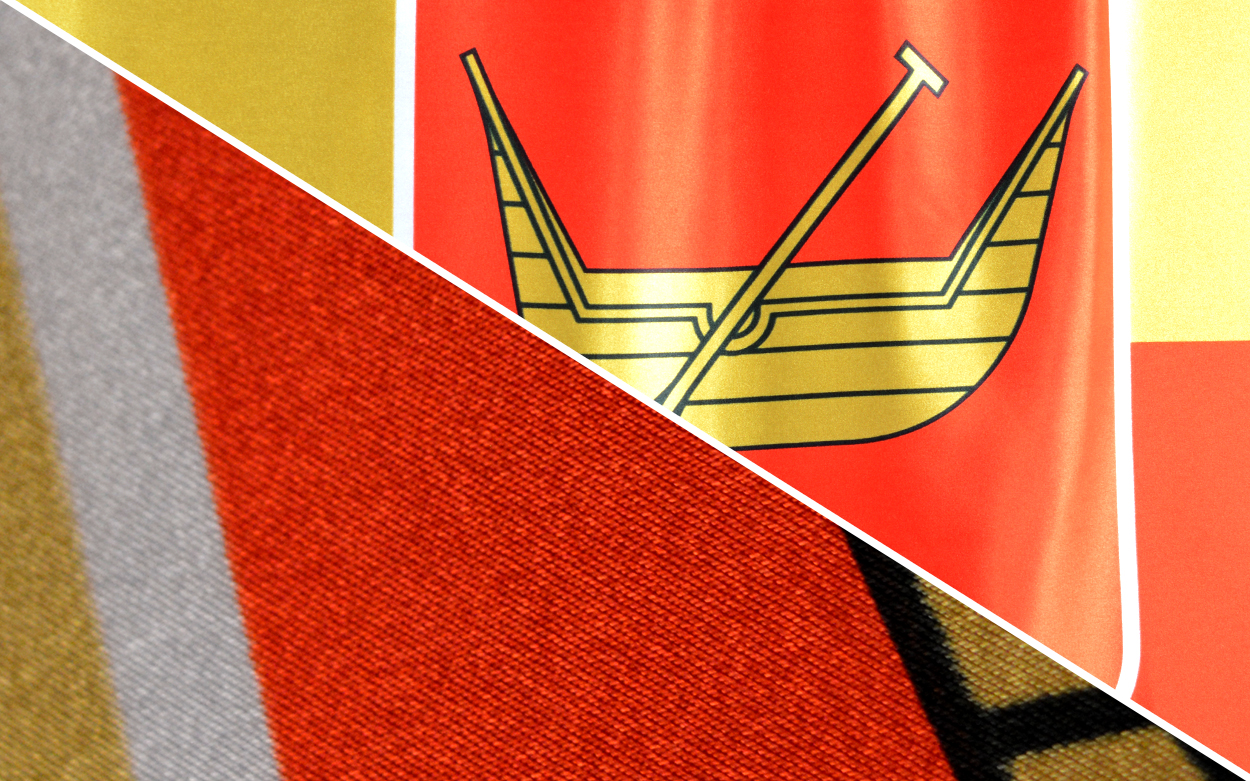 100% Satin Polyester
Lasting print on our flags
The printing technologies used by us are designed to dye fibers in a way that keep the eyelets open and allow for free air flow. This reduces the flopping and gives an excellent effect of a slight transparency of colour.
With small orders we use digital print. Its recent staggering technological development has allowed for flags to be produced in unprecedented short terms and low prices. Its price isn't affected by the amount of colours or degree of colour coverage.
With larger orders we use silk-screen printing. This traditional technology allows for attaining excellent colourful surfaces. Because of the complexity of the production process, it is cost-effective when ordering large quantities. The pigment is first printed on the flag, then, in high temperature, the pigment dyes the fibers, and lastly, the pigment is washed. The price of such a flag depends on the number of colours and the degree of colour coverage.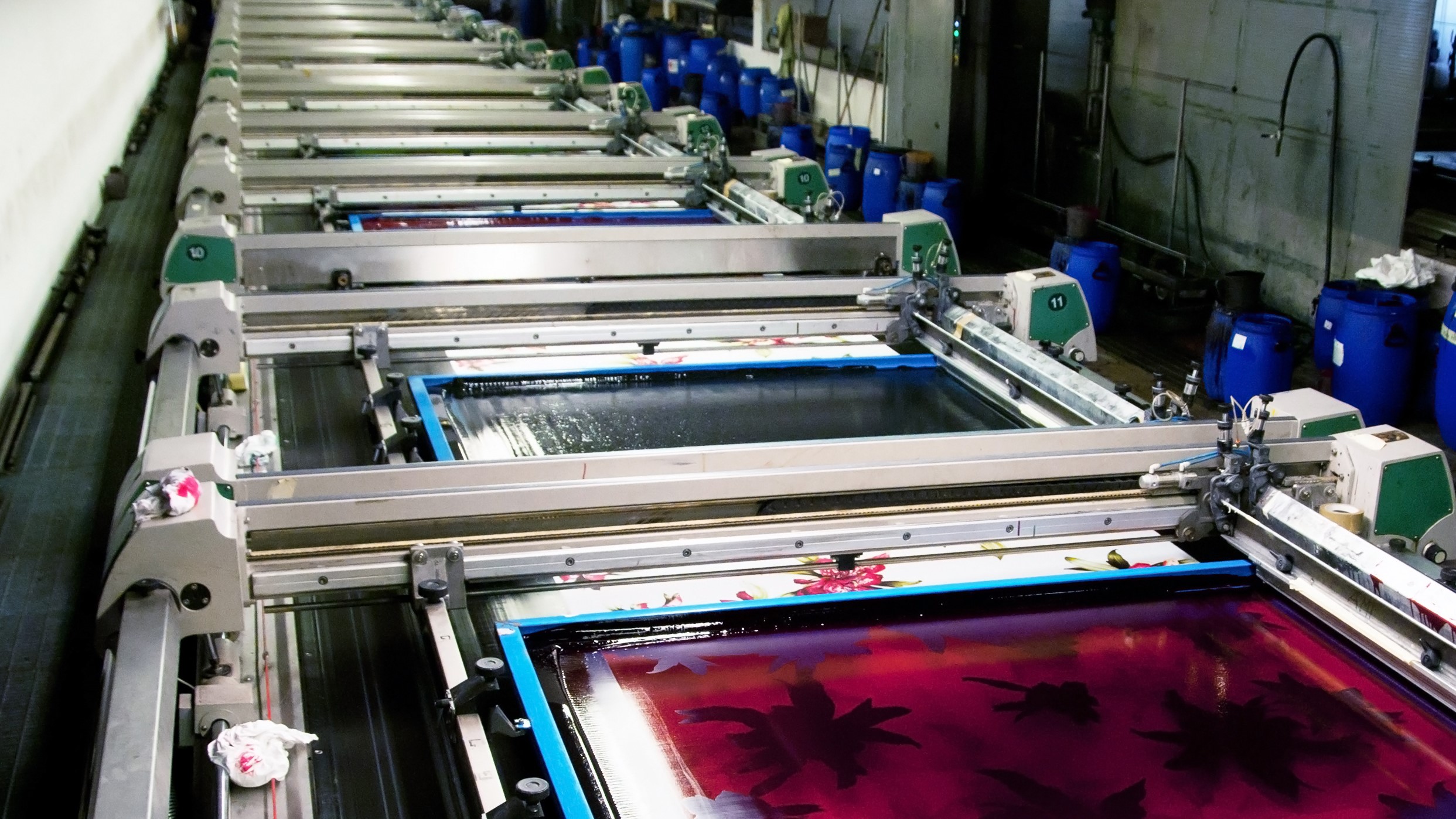 Screen printing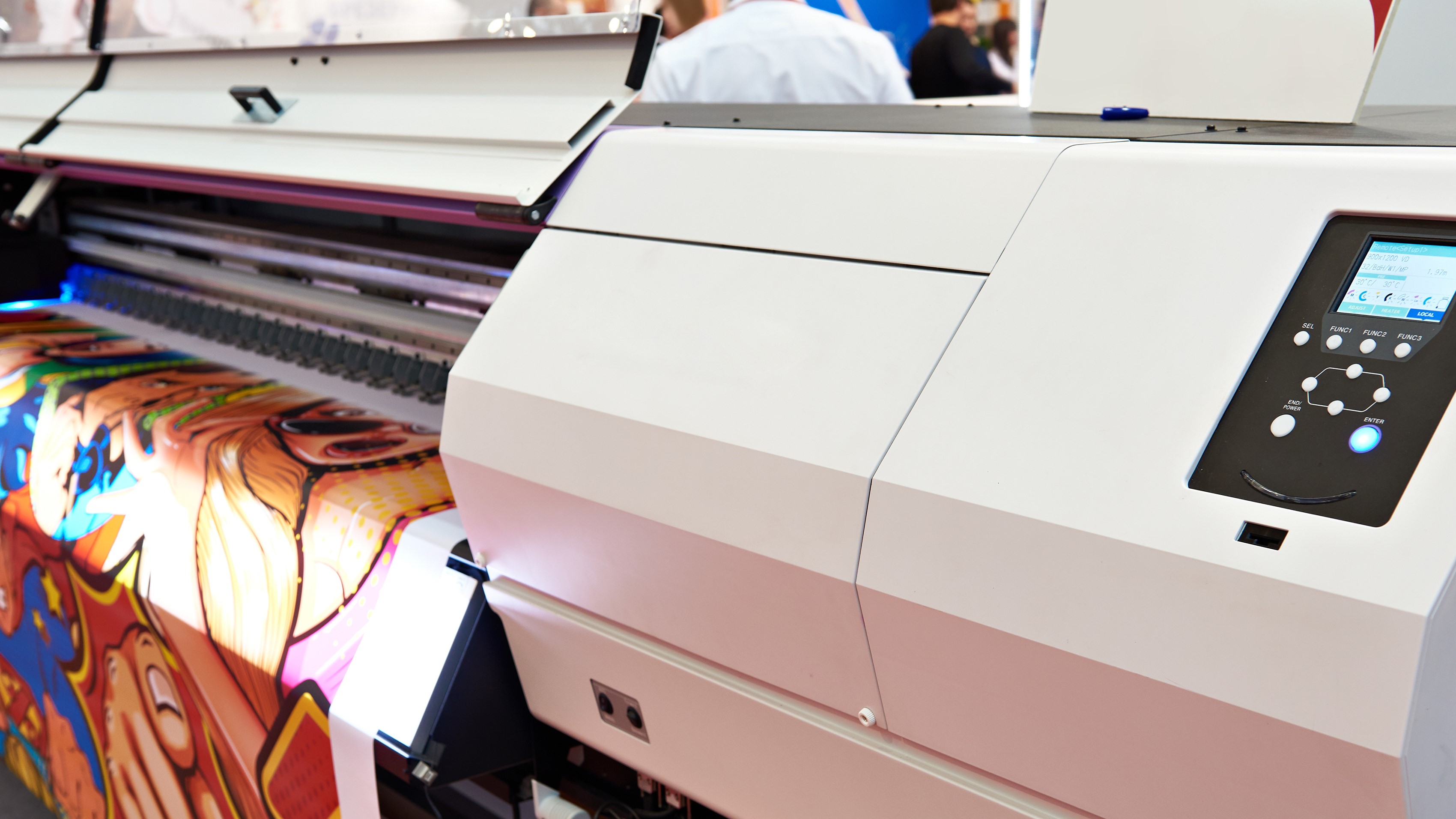 Digital printing
Flag customization
On our flags, we use also unconventional techniques and different elements, such as hi-vis or metallic paint. In special cases, the flags are sewn only with fabrics.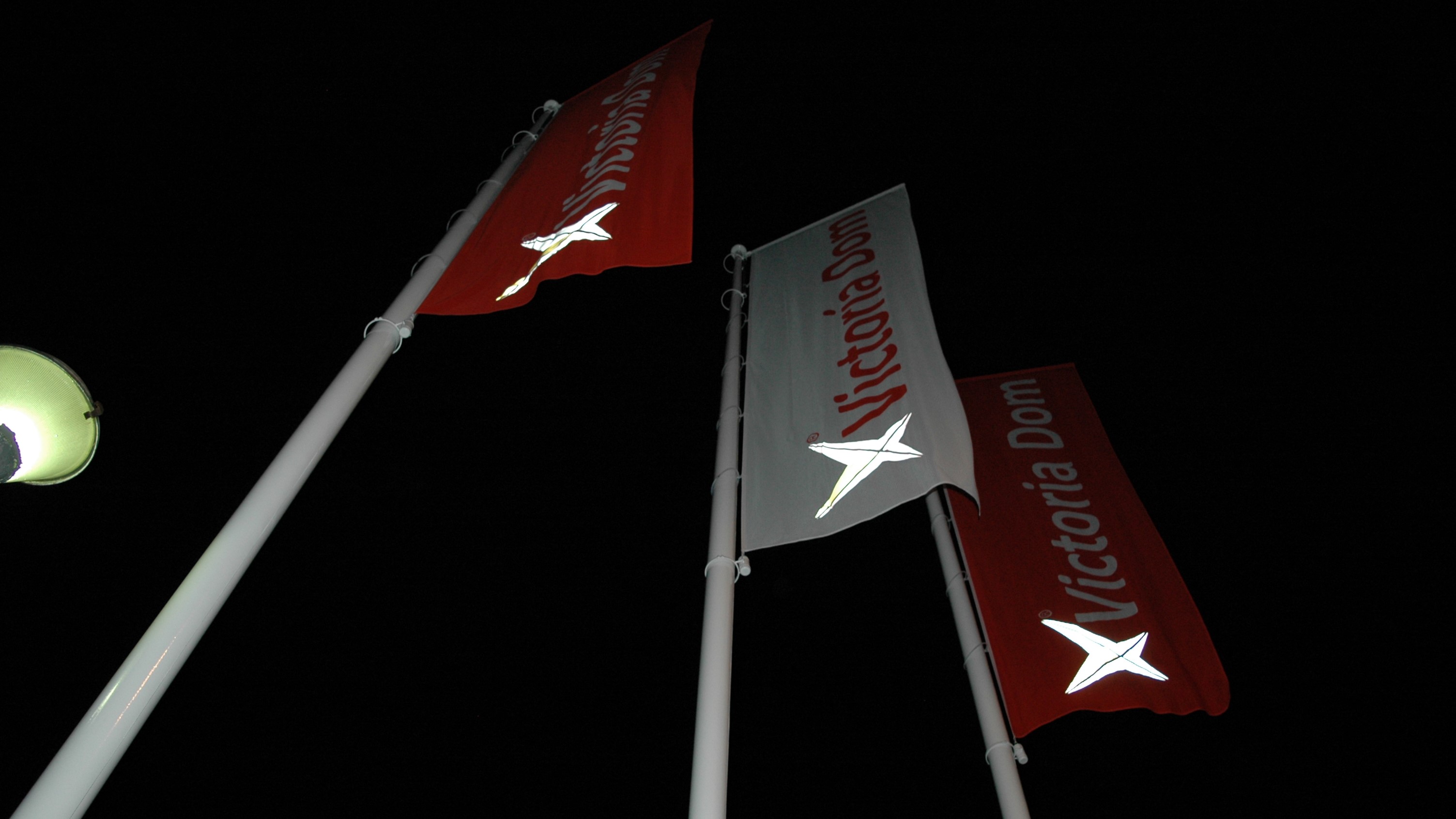 Autumn flags (with hi-vis elements)
Flag design
When designing a flag, one should pay attention to a good logo display, clarity of the content, and a large surface of colour so that the flag attracts attention in every possible weather condition.
If we care about the readability of the flag's content, the best flag will be a vertical one. Ideally, with a wind tracker flagpole.
On promotional flags too much content will interfere with the brand's message.
If the flag's function is a representative one, the standard horizontal flag will be your best option.
Flag sizes
We make our flags in any size, but some are more popular than others:
Standard horizontal flag sizes are 100 x 70 cm, 125 x 200 cm
Standard vertical flag sizes are 120 x 350 cm, 150 x 450 cm
Note that vertical flags of very large sizes can be problematic in difficult weather conditions – with heavy rain or strong wind the flag can stick to the flagpole.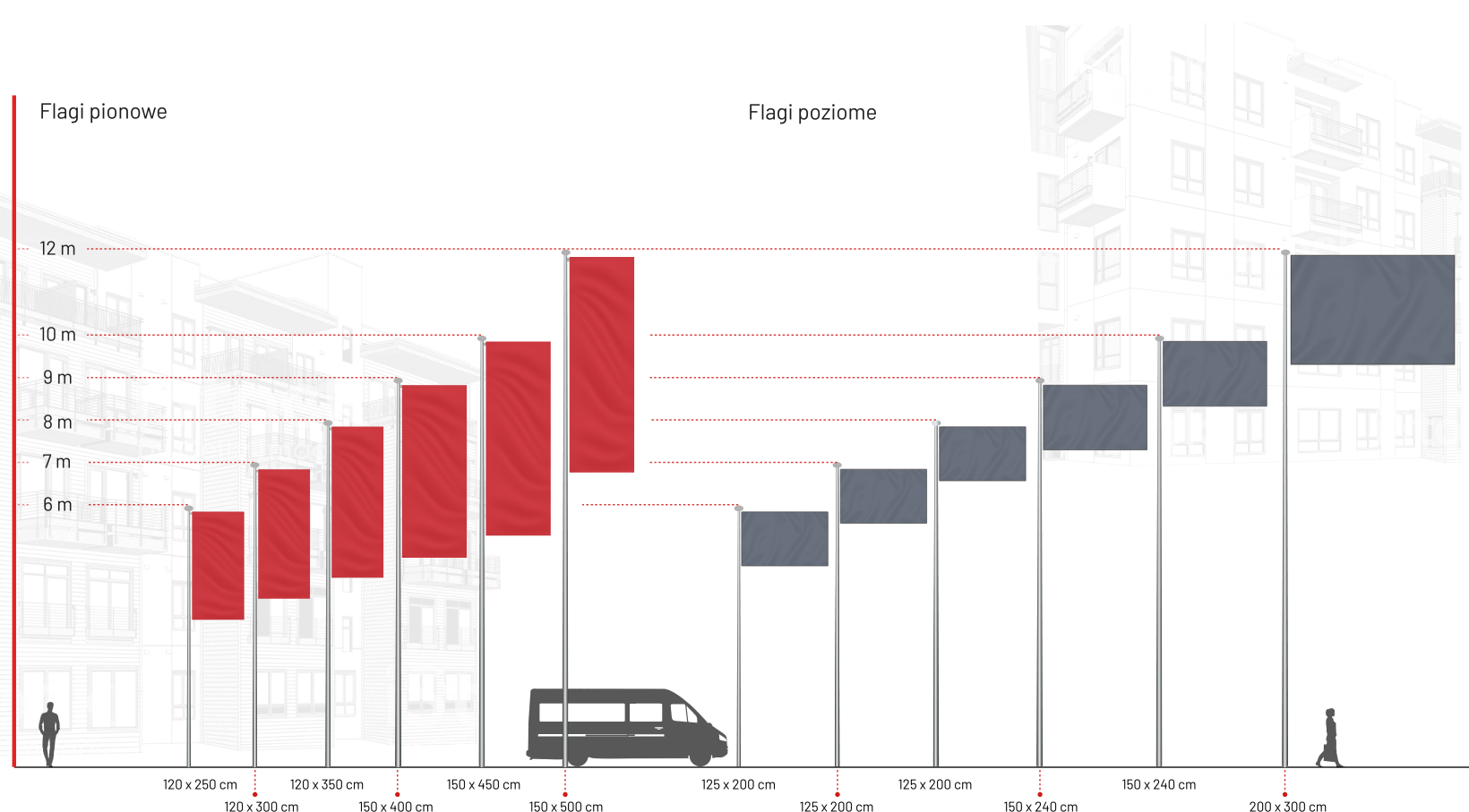 Flag finishes
Strong threads and carabineers with double stitching ensure a long life for a flag. The type of finish will depend on the flag's function and the type of flagpole.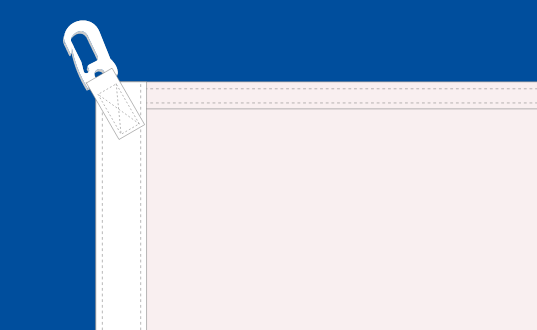 Snap hooks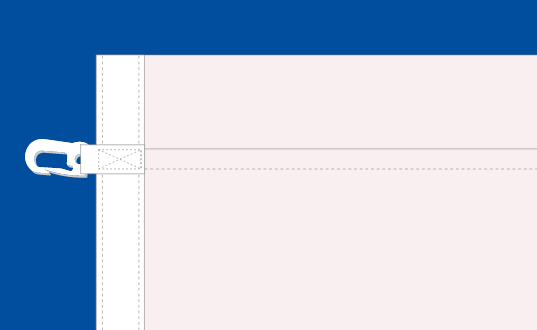 Sleeve + snap hooks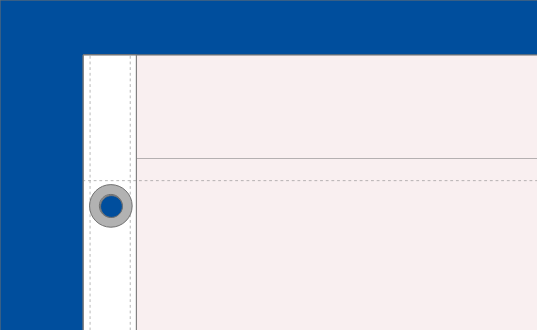 Sleeve + eyelets
How to prolong a flag's lifespan?
Strong threads and snap hooks with double stitching certainly make a flag's life longer, but let's reduce any factors that can shorten a flag's life:
A flag should be on the flagpole only when it should – if it's possible, lower the flag during the night or when it is not needed.
During strong winds, flags should be lowered – this is important especially for a flagpole's durability.
Keep the flag clean – washing a flag is fairly easy.
If you notice any damages to the flag – small damages can be fixed, so please send us your flag after first washing them – if six months haven't passed after the purchase and the damage is repairable – we will fix it for free.
Flag washing
Flags perfectly withstand laundry in common detergents, but the temperature shouldn't be more than 60°C. Please note that one shouldn't let them get too dirty.
How to use promotional flags
Promotional flags are an easy way of increasing brand awareness and, at the same time, they function universally both inside and outside. They are a great solution for most industries. Let's look into their advantages i find out how to make use of them as a marketing tool for a business.
Easy way for an effective promotion
Promotional flags are simple constructions which comprise of a frame with a flagpole and a sheet of fabric, usually made from polyester or a polyester knit. The fabric is an advertising surface on which a brand's logo, graphic design, or a slogan is printed on using screen or digital printing. The construction as a whole can have different sizes, depending on the product's function.
Making a great first impression
Larger flags will superbly present themselves in front of a company's office or a large-area store. Their placement in a representative place in front of the building signal the entrance to guests and potential clients. As a company, it pays to emphasize one's attention to detail, especially in the very beginning of the brand's interaction with a client.
Essential to outdoor events and fairs
Promotional flags will prove extremely useful in outdoor events during which companies can present their services or encourage people to buy their products. During fairs or other events, potential customers will see the logo from afar, thus remembering the brand for longer.
Promotional flags for interiors
Small flagpoles with a printed advertising flag will prove useful also in closed spaces. They are a promotional gadget which can liven up the decor, encouraging further interaction with the brand. These types of flags are portable – if you find a different use for them, you can dismantle the construction and assemble it again with no difficulty.